AFLA 22 at McGill University
May 21-24, 2015
Invited Speakers:
Dr. I Wayan Arka (Australian National University)
Dr. Ileana Paul (Western University)
Dr. Maria Polinsky (Harvard University)
Dr. Joey Sabbagh (University of Texas at Arlington)
Proceedings volume now available (external link)
---
AFLA is an organization which promotes the study of Austronesian languages from a formal perspective. Since the initial meeting in 1994, AFLA has served as a forum for the presentation of new research in all of the core areas of formal linguistics, including (but not limited to) phonology, linguistic typology, morphology, semantics and syntax. AFLA has a history of bringing together leading scholars, native speaker-linguists, and junior scholars in the formal study of Austronesian languages.
More information, including information about past AFLA meetings, can be found at http://westernlinguistics.ca/afla/
---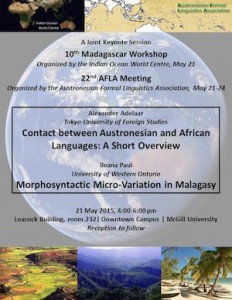 This year, the 10th Madagascar Workshop, hosted by the Indian Ocean World Centre (IOWC) at McGill, will take place on May 21st. This workshop brings together anthropologists, historians and other scholars who share an interest in Madagascar and its diaspora. AFLA and the IOWC will jointly host an invited talk by Ileana Paul of Western University on the dialects of Madagascar at 4pm on the 21st followed by a wine and cheese to mark the close of the Madagascar Workshop and the opening of AFLA.
See the following link for information about the upcoming Madagascar Workshop.
http://indianoceanworldcentre.com/10thMadagascarWorkshop
---
AFLA XXII is partially funded by: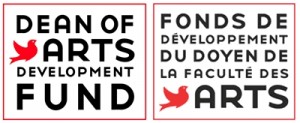 FRQSC Team Grant 2012-SE-144646
SSHRC Insight Grant 435-2012-0882
Department of Linguistics Cremona Fund
---
This website will be continually updated as details are finalized.
For inquiries, please contact the organizing committee at
aflaxxii@gmail.com